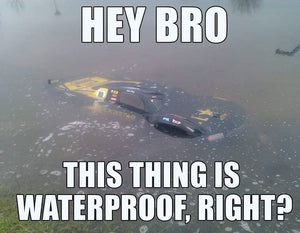 This is the R/C Brand Taking a Different Approach to the Industry!
How It Started:
Radio control is quite possibly one of the most innovative niche's to exist. Just as we begin to ooooo and ahhhh at the latest manufacturer's release, someone else in the hobby is already planning the next big thing. It's this constant battle of the brains that makes our hobby so special, and why I think it contributes a major part to the continuing growth we have seen in years past.
However, with this rapid growth I saw something missing…something that could help push our favorite pastime into not only the houses of lifetime rc enthusiasts, but to newcomers, and outsiders as well. That idea turned into research, which led to hundreds of hours on a computer, that helped form a business license, and build the website you're on now. The rest is history, welcome to Naughty Boy RC.
Who We Are:
For the most part this is a one man band operation, and this band has a non stop around the world tour schedule 365 days a year. The good part is that I love to perform, so while it is a ton of work, it's very rewarding and a whole lot of fun!
I have been in the hobby for one decade now, which is hard to baffle. It feels like just yesterday I was spending all day on dial-up internet at the ages of 10-11 looking at Losi Mini Sprints, the Traxxas Slash, and just about every other vehicle on the market. Side note, (Between me and my girlfriend's dad we may have one of the largest Losi Mini Sprint collections there is!) At the time I didn't realize I was actually logging in tons of research on the hobby. When I finally got my first hobby grade RC truck, an ECX Ruckus, I knew how to completely tear apart, clean and replace everything on the truck by myself at the age of 12. This led to the start of a lifelong addiction, many new friendships, and now the journey we are on here together.
What Makes Us Different:
We aren't corporate robots and won't pretend to be. We make mistakes, our website has typos, and we like to say remote & radio control. We're hobbyists like you, looking to support people like us, and get others involved in our lifestyle.
The biggest item that separates us from the rest of the industry is our business model! There are so many kit, and aftermarket part manufacturers in the game, but until we showed up there hadn't been a ton of "daily life" options for rc enthusiasts. Sure, most manufactures have some t-shirts, hoodies and misc items, but wearing someone elses logo all the time is BORING!
Our focus is to bring fun and joy into the product designs we sell. We want you to have that feel good mojo wearing one of our backpacks on your motorcycle ride to work, or reppin our t-shirts out on the town. That is also why we make so much more than just clothes! Put RC swag on your 1:1 vehicle seats, take our Bash Bag to the gym, flip-flops to the beach, sip your morning coffee at the office in our mugs, put stickers on everything you own…….everything!  The options are limitless! If you already have some Naughty Boy RC swag, let us know how you #keepitnaughty on social media! HAVE FUN! That's what this hobby is about!
Growth:
I love how passionate this community truly is. It does not matter if it's racing, bashing, crawling, boating, or flying, there are so many cool radio control events to go to across this country, and the world. As part of us growing as a brand in the rc world we are constantly giving back to the roots of this industry. We have donated to and supported Beat The Creek 2022, RC Fest 2021 & 2022, SoFlo No Prep Nationals 2022, just to name a few. On top of this we have supported countless tracks, and smaller events with raffle items, door prizes, and monetary donations. Not to mention our ever growing list of influencers, and social media gurus, some of which have helped us more than they will ever know!
Speaking of support, did you know we are still accepting team applications till the end of the month?!?!?!?! Seriously, don't miss your chance to get free custom made swag for your RC race team, or influencer page, discounts and/or free parts, cars and everything else from our sister company nbrc_recycle. We are really trying to help out some serious RC people here!
We Are Personable:
Stuff happens outside of our control all the time, especially when dealing with a manufacturer to consumer model like we have. We are not there to double check our suppliers' quality control everyday. That being said, we managed to form some amazing partnerships with great people! The reliability and demonstration of our hobby values from said suppliers is simply outstanding.
If something happens to your order, you have concerns about product features or just want to chat, reach out to us at: sales@naughtyboyrc.com There we can take care of anything you may need. I understand your frustration when things get packaged incorrectly, wrong items get sent out, or packages are sent untimely. It just plain stinks 😢. We will take care of you though, and if possible please remember we are human too. Kindness is greater than hate!  
P.S. If you have an order issue, the nicer you are to us, the more you shall be rewarded! If we were here to rip you off, we wouldn't be in business!
Speaking Of Hate:
We know a lot of you "keyboard hobbyists" hate us saying remote control over radio control, so this is for you.
remote control, remote control, remote control, remote control, remote control, remote control, remote control, remote control, remote control, remote control, remote control, remote control.
We play by our own rules here…after all, it is our website 😉
Page created using Blog & Page Builder by Reputon
---