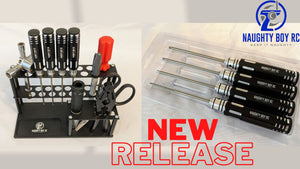 This is the NEW Release From Naughty Boy RC
Introduction:
Just when you thought Naughty Boy RC had planted roots as an apparel & accessories only company, we grew some new fruit. Introducing the first in our lineup of the naughtiest tools and organizational pieces on the R/C market! Affordable, quality tools behind a name you can trust!
The Drivers: 
Our industry standard 4 pack of drivers feature a hex shaped handle with machined grooves to establish maximum grip, no matter the job. The smoothed edges allow for seamless rotation in the hand, keeping muscles from early fatigue during late night wrench sessions. A 2.0mm hex screw keeps your driver's bit firmly in place during hard torquing of the wrist. Best of all the driver bits come in the most commonly used radio control sizes today 1.5mm, 2mm, 2.5mm, and 3mm, ensuring you have the size needed for nearly any job!
The Tool Stand: 
Naughty Boy RC's ultimate workbench space saver is a necessity for every hobbyist. Keep your favorite tools easily accessible when it matters most. Quick disassembly means you can stay organized wherever the hobby takes you. The sturdy frame and heavy base firmly supports your driver's, lexan scissors, pliers, reamer and more! Multiple slot locations allow for organization the way YOU want it! The recessed portion of the lower tray provides security to loose hardware, saving you time looking for lost screws, and letting you get back to the hobby you love.
More Information:
To learn more about, or purchase our Driver Set, use this link:
https://naughtyboyrc.com/collections/tools-storage/products/metric-hex-driver-set-4-1-5-2-0-2-5-3-0mm
To learn more about, or purchase our Tool Stand, use this link:
https://naughtyboyrc.com/collections/tools-storage/products/tool-stand
Page created using Blog & Page Builder by Reputon
---