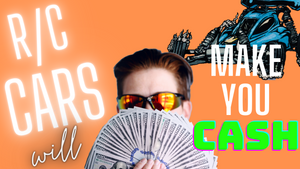 Make Money With R/C Cars!
Wouldn't it be nice if you could actually make money doing what you love? For many radio control enthusiasts this is a dream we often think about. Truth is, unless you got the wheeling talent of Ryan Mayfield, Spencer Rivkin, or an engineering degree, the only other option is the front counter at your local hobby shop…..if you have one.
What if this wasn't just a dream though? What if there was a way to make some extra cash on the side to help offset our hobbies' high cost? Maybe you could take this opportunity even bigger from paying your tire bill and entry fee, to paying for your entire livelihood? Wouldn't it be nice to get to travel the country, bringing radio control with you wherever you go? 
Naughty Boy RC was founded by radio control junkies, with a mission to give back to the community as much as possible. Together we want to give R/C addicts a way to bring in extra income and have more opportunities to do what you love, when you want to do it. Best part is, it doesn't cost you a penny to get started. All you need to provide is a determined mindset, love for radio control, and some spare time.
How it works:
Sign up for our Affiliate Program under the "Helpful Information" section on the bottom of our website. Once inside you will see a personalized dashboard with a custom website link. This link is unique to you! Share Naughty Boy RC products, to your friends, family, and social media followers through content you create using the unique link in your dashboard. When someone clicks your link and makes a purchase, you get paid a percentage of the sale price!
Aside from this program being completely free to join it has some amazing perks the competition doesn't offer! You'll have 20 days of cookies from the time someone clicks your link, until they make a purchase to get paid! So if they click your link, and come back five days later to buy a new RC kit, that will count towards your commission!
We offer exclusive products, such as our Naughty Boy RC tools, and brands big retailers don't have such as PR Racing & LC Racing! Our list continues to grow with other quality manufacturers being added regularly, sparking interest among the R/C community. Combine this with our fast shipping and top notch customer service will have your customers coming back to hit your link time and time again. 
Guess what else? Here we offer a leading percentage rate that many other brands and retailers can't match! We want to not only reward your hard work and effort, but want to see you getting out and enjoying what our hobby is about! You will be amazed what some extra income will do for your life! 
Now is your chance to take charge! 
Sign up here:
Page created using Blog & Page Builder by Reputon
---