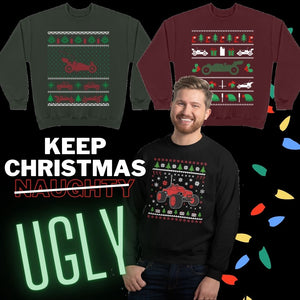 Christmas Just Got Ugly For Radio Control!
THEY ARE HERE:
How ugly do you like to make the holidays? Everyone's favorite Christmas time clothing item has arrived at Naughty Boy RC!
Ugly sweaters have become a staple in American culture during the holiday season, and for being "ugly" we sure do love them! Our radio control buggies, trucks, and cars have taken over the sweater game and are ready to be on display at whatever function your significant other will be dragging you to this year! Best part, they are cotton sweatshirts, so it won't leave you itchy like your grandma's knitted one!
This year we are dropping 3 different designs in 3 different colors!
Nitro Buggy Ugly Christmas Sweater can be found here:
https://naughtyboyrc.com/products/christmas-sweat-1
Nitro RC Car Ugly Christmas Sweater can be found here:
https://naughtyboyrc.com/products/sweat-2
RC Monster Truck Ugly Christmas Sweater can be found here:
https://naughtyboyrc.com/products/sweat3
Page created using Blog & Page Builder by Reputon
---